informelle

Marbecca@ColognePride 2013
Der ColognePride 2013 war mit seinen geschätzten 900.000 Besucher_innen und 30.000 Teilnehmer_innen mal wieder ein starkes Signal für die Vielfalt und den Wunsch nach rechtlicher Gleichstellung und gesellschaftlicher Akzeptanz für Homo- Bi-, Trans- und Inter­sexuelle Menschen.
Unter den 30.000 Teilnehmer_innen waren auch wieder viele Stars und Sternchen und in diesem Jahr zum ersten Mal als "Paar" dabei die zwei Schauspielerinnen Melanie Kogler und Tatjana Kästel besser bekannt als lesbisches Paar Marbecca aus der ARD-Serie Verbotene Liebe.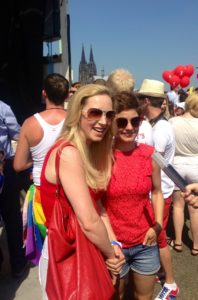 Nach einem Interview im Herbst 2012 mit den beiden Schauspielerinnen, nutzten wir die Chance um sie dieses Mal vor die Kamera zu bekommen.
[quicktime]http://www.phenomenelle.de/wp-content/uploads/2013/07/Marbecca@ColognePride-2013.mov[/quicktime]
Alternativer Link: Marbecca@ColognePride 2013
Link zum schriftlichen Interview:
Interview mit Marbecca
Wir danken Petra und Karo für ihre filmische Unterstützung bei diesem Video und weisen gerne schon mal auf das laufende Filmprojekt Happy End aus dem Hause Sistas Inspiration hin, das sicherlich wieder ein Highlight der lesbischen Filmkultur wird. Ihr könnt von Anfang an dabei sein und es unterstützen:
Homepage: http://sistasinspiration.com/happyend/
Unterstützen: http://www.startnext.de/happyend-film
---
For our english speaking readers we have all necessary information about the interview here:
Summery:
After wishing Tatjana and Melanie a "Happy Pride", both continued talking about how happy they are to be part of this years ColognePride Parade, especially because the team of Verbotene Liebe has their own truck. Melanie already participated last year but for Tatjana 2013 was the first time.
So, excitment was on the menu, and lovely to see during the moment of greeting their fans all over the world in english.
Of course we wanted to know, how the story of Marbecca unfolds in the future. And here is what Melanie had to say:
It is always a little difficult what is allowed to reveil… But I think we can say, the story of Marlene and Rebecca will stay a wonderful love story between two people, where the love always has priority, a love story between two people who will be there for each other and will support each other in everything they do, even if they might walk, at times, in different directions. And it will be beautiful.
Here is our interview from last year: Marbecca from Verbotene Liebe
Related Posts