kulturelle

The Abominable Crime – Homophobie in Jamaica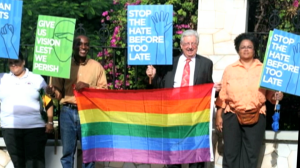 The Abominable Crime zeigt an Beispielen von homosexuellen Jamaikaner_innen die schwierige Situation, in der sie dort leben. Sie sind gezwungen zwischen ihrem Heimatland Jamaika und den dortigen schweren homophoben Zuständen und ihrer sexuellen Identität zu wählen. Unter ihnen ist auch die alleinerziehende lesbische Simone, die nach einem Anschlag auf sie in ständiger Angst um ihr Leben nun die Fluch ins Ausland wagen muss.
Weitere Infos:
Offizielle Webseite: http://www.abominablecrimefilm.com
Facebook Fanseite: http://www.facebook.com/pages/The-Abominable-Crime-Film/
Regie: Micah Fink
Produzent: Micah Fink und Karen Sim
Trailer:

The Abominable Crime Trailer from Common Good Productions on Vimeo.
Related Posts